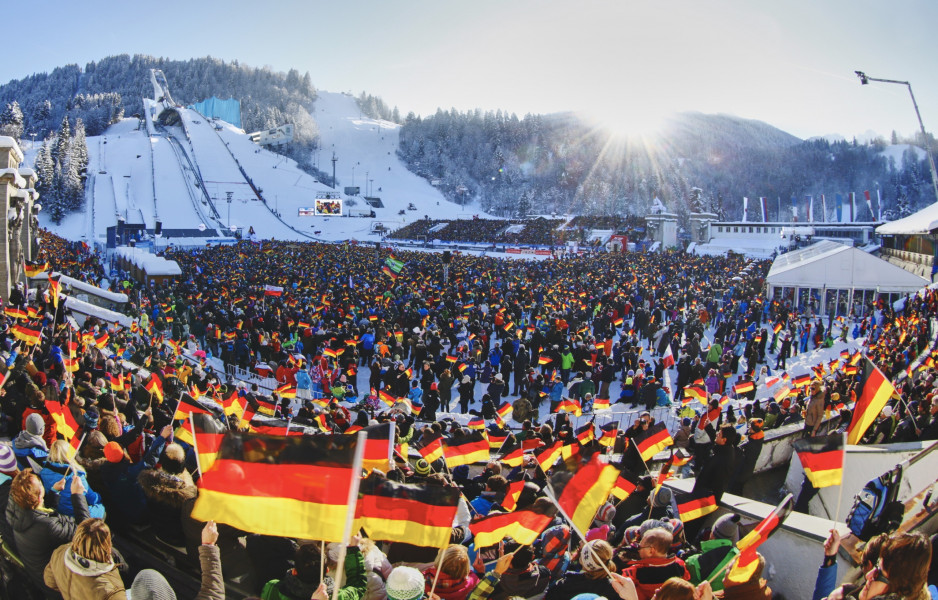 The dates and venues for this season's ski jumping World Cup are done and dusted: The kick-off of this year's Ski Jumping World Cup season will be given to the jumping hill in Wisla, Poland. Apart from the annual Four Hills Tournament, the FIS Nordic World Championships will also be host to major competitions in ski jumping.
We present the highlights of the season; we've listed all dates and venues in a table; and we have set up a download feature for the PDF. Besides the men's schedule you can also find all of the women's dates at the end of the page.
Major Highlights of the Season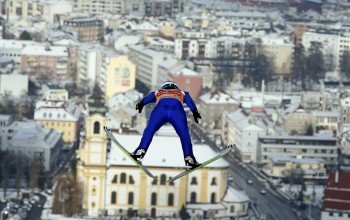 © Brigitte Waltl-Jensen, OK Vierschanzentournee Ski Jumping in Innsbruck
The Four Hills Tournament
This year's Four Hills Tournament is one of the major highlights. Taking place between December 28, 2020 and January 6, 2021 at the four traditional venues of Oberstdorf, Garmisch-Partenkirchen, Innsbruck, and Bischofshofen, it is an annual magnet for young and old spectators both in front and behind the screen. Four ski jumping hills, two in Germany, two in Austria, make for an outstanding excitement and thrill.
Nordic World Championships in Oberstdorf
The most exciting part of the season will take place in Oberstdorf. From February 24 to March 6, 2021 Athletes will compete for medals in single and team competitions. For the first time women will also be able to hold an individual competition on the large hill.
The Raw Air Tournament in Norway
The Raw Air competition in March is another major event beside the Four Hills Tournament. The athletes compete against each other in four single and two team events. The venues for the competition are Oslo, Lillehammer, Trondheim and Vikersund in Norway. High prize money for the winners make this tournament especially attractive. In contrast to the Four Hills Tournament, the Raw-Air Tour will also have the ladies at the start.
Ski Jumping World Cup: Schedule Men 2020/2021

© Brigitte Waltl-Jensen, OK Vierschanzentournee A major highlight: Four Hills Tournament.
Date
Time
Venue
Discipline
Hillsize
21 Nov 2020
16:00
Wisla (POL)
Team Night
134m
22 Nov 2020
16:00
Wisla (POL)
Individual Night
134m
28 Nov 2020
16:30
Ruka/Kuusamo (FIN)
Individual Night
142m
29 Nov 2020
15:30
Ruka/Kuusamo (FIN)
Individual Night
142m
05 Dec 2020
16:30
Nizhny Tagil (RUS)
Individual Night
134m
06 Dec 2020
16:30
Nizhny Tagil (RUS)
Individual Night
134m
11 Dec 2020
16:00
Planica (SLO)
Ski Flying World Championships
Ski Flying Individual
240m
13 Dec 2020
16:00
Planica (SLO)
Ski Flying World Championships
Ski Flying Team
240m
19 Dec 2020
16:00
Engelberg (SUI)
Individual
140m
20 Dec 2020
16:00
Engelberg (SUI)
Individual
140m
29 Dec 2020
16:30
Oberstdorf (GER)
4-Hills Tournament
Individual Night
137m
01 Jan 2021
14:00
Garmisch-Partenkirchen (GER)
4-Hills Tournament
Individual
142m
03 Jan 2021
13:30
Innsbruck (AUT)
4-Hills Tournament
Individual
130m
06 Jan 2021
16:45
Bischofshofen (AUT)
4-Hills Tournament
Individual Night
142m
09 Jan 2021
16:00
Titisee-Neustadt (GER)
Individual Night
142m
10 Jan 2021
16:30
Titisee-Neustadt (GER)
Individual Night
142m
16 Jan 2021
16:15
Zakopane (POL)
Team Night
140m
17 Jan 2021
16:00
Zakopane (POL)
Individual Night
140m
23 Jan 2021
16:15
Lahti (FIN)
Team Night
130m
24 Jan 2021
15:45
Lahti (FIN)
Individual
130m
29 Jan 2021
16:00
Willingen (GER)
Individual Night
137m
30 Jan 2021
16:00
Willingen (GER)
Individual Night
145m
31 Jan 2021
16:15
Willingen (GER)
Individual Night
145m
06 Feb 2021
Klingenthal (GER)
Replaces Sapporo
Individual
140m
07 Feb 2021
Klingenthal (GER)
Replaces Sapporo
Individual
140m
13 Feb 2021
cancelled
Peking (CHN)
Individual Night
140m
14 Feb 2021
cancelled
Peking (CHN)
Individual Night
140m
19 Feb 2021
14:45
Rasnov (ROU)
Individual
97m
20 Feb 2021
10:00
Rasnov (ROU)
Mixed Team
97m
27 Feb 2021
16:30
Oberstdorf (GER)
Nordic World Championships
Individual
106m
28 Feb 2021
17:00
Oberstdorf (GER)
Nordic World Championships
Mixed Team
106m
05 Mar 2021
17:00
Oberstdorf (GER)
Nordic World Championships
Individual
137m
06 Mar 2021
16:30
Oberstdorf (GER)
Nordic World Championships
Team
137m
13 Mar 2021
15:30
Oslo (NOR)
Raw Air Tournament
Team Night
134m
14 Mar 2021
15:30
Oslo (NOR)
Raw Air Tournament
Individual
134m
16 Mar 2021
17:00
Lillehammer (NOR)
Raw Air Tournament
Individual
140m
18 Mar 2021
17:00
Trondheim (NOR)
Raw Air Tournament
Individual
138m
20 Mar 2021
16:30
Vikersund (NOR)
Raw Air Tournament
Ski Flying Team
240m
21 Mar 2021
16:30
Vikersund (NOR)
Raw Air Tournament
Ski Flying Individual
240m
26 Mar 2021
15:00
Planica (SLO)
Ski Flying Individual
240m
27 Mar 2021
10:00
Planica (SLO)
Ski Flying Individual
240m
28 Mar 2021
10:00
Planica (SLO)
Ski Flying Team
240m
(All information is subject to change. Time = CET)
Feel free to download the schedule as PDF, comprising all dates and venues of the FIS Ski Jumping World Cup 2020/2021:
-> Ski Jumping World Cup: PDF Schedule Men
Ski Jumping World Cup: Schedule Women 2020/2021
Date
Time
Venue
Discipline
Hillsize
05 Dec 2020
cancelled
Lillehammer (NOR)
Individual
98m
06 Dec 2020
cancelled
Lillehammer (NOR)
Individual
140m
18 Dec 2020
Ramsau (AUT)
Individual
98m
09 Jan 2021
cancelled
Sapporo (JPN)
Individual Night
134m
10 Jan 2021
cancelled
Sapporo (JPN)
Individual
134m
15 Jan 2021
cancelled
Zao (JPN)
Individual Night
102m
16 Jan 2021
cancelled
Zao (JPN)
Team Night
102m
17 Jan 2021
cancelled
Zao (JPN)
Individual Night
102m
23 Jan 2021
14:00
Ljubno (SLO)
Team
94m
24 Jan 2021
14:00
Ljubno (SLO)
Individual
94m
30 Jan 2021
Titisee-Neustadt (GER)
Replaces Hinterzarten
Individual
90m
31 Jan 2021
Titisee-Neustadt (GER)
Replaces Hinterzarten
Individual
90m
06 Feb 2021
14:30
Hinzenbach (AUT)
Individual
90m
07 Feb 2021
14:30
Hinzenbach (AUT)
Individual
90m
11 Feb 2021
cancelled
Beijing (CHN)
Individual
106m
12 Feb 2021
cancelled
Beijing (CHN)
Individual
106m
20 Feb 2021
11:00
Rasnov (ROU)
Individual
97m
21 Feb 2021
10:00
Rasnov (ROU)
Mixed Team
97m
25 Feb 2021
17:00
Oberstdorf (GER)
Nordic World Championships
Individual
106m
28 Feb 2021
17:00
Oberstdorf (GER)
Nordic World Championships
Mixed Team
106m
03 Mar 2021
17:15
Oberstdorf (GER)
Nordic World Championships
Individual
137m
14 Mar 2021
18:15
Oslo (NOR)
Raw Air Tournament
Individual
134m
16 Mar 2021
20:00
Lillehammer (NOR)
Raw Air Tournament
Individual
140m
18 Mar 2021
20:00
Trondheim (NOR)
Raw Air Tournament
Individual
138m
20 Mar 2021
13:00
Nizhny Tagil (RUS)
Blue Bird Tour
Individual
97m
21 Mar 2021
13:00
Nizhny Tagil (RUS)
Blue Bird Tour
Individual
97m
27 Mar 2021
13:00
Chaikovsky (RUS)
Blue Bird Tour
Individual
102m
28 Mar 2021
08:00
Chaikovsky (RUS)
Blue Bird Tour
Individual
140m
(All information is subject to change. Time = CET)